SMOKING OF ANY KIND IS STRICTLY PROHIBITED AND WILL LEAD TO IMMEDIATE EJECTION FROM THE VENUE
Our Box Office is open during all shows for advanced ticket sales.
All of our events are sold through TicketWeb.com. Please purchase your
tickets from TicketWeb.com to ensure that you're purchasing legitimate
tickets. We're not responsible for fraudulent, lost, or stolen
tickets. For more information, please head to
http://www.ticketweb.com/events/org/217623.
The Forge has coat check available at all of our events. Please note that you may be required to check large bags at our security staff's discretion.
Please check out the details for the specific show that you're interested in attending to find out the most accurate information about the night.
To enter The Forge, you must show one valid form of federal or state ID (drivers license, state ID, passport) as proof of age. We request ID from any customer who appears to be under the legal age.
We reserve the right to refuse entry to any customer who cannot produce a valid ID. We also reserve the right to ask for a second form of ID if the first form is unacceptable or unclear.
Acceptable forms of identification:
A valid, current drivers license issued by the Illinois Secretary of State Office or any other state.
A valid photo identification card issued by the Illinois Secretary of State Office or any other state.
Armed Forces Identification. A valid U.S. Passport or travel visa/passport issued by a foreign country containing the holder's photograph.
Fair Warning:
The Forge will confiscate fake or misrepresented Identification and turn them in to the Police. It's a Class A Misdemeanor to display another person's card as your own, or to lend a card to someone, and it's a Class 4 Felony to possess a fraudulent ID. Offenders face fines, community service, and even jail time. Violators face a minimum license suspension of one year. These suspensions are on the public motors vehicle record and remain there for seven years.Children:
There is no minimum age requirement for ALL AGES shows. If you're a parent, please consider your individual child's personality, tolerance for crowds, attention span, and ability to handle loud environments. The Forge encourages proper ear-plugs and protection for all patrons, but especially young children.
If you have any questions, please contact [email protected].
Parking is available in 2 local multi-level parking garages, and the Catholic Charities Parking Lot.  The Catholic Charities Lot is located at 203 N Ottawa Street. The Scott Street Parking Deck is located at 150 North Scott Street. The Ottawa Street Parking Deck is located at 136 North Ottawa Street. Street Parking is FREE after 5:00pm.
Valet is also an option on a per event basis.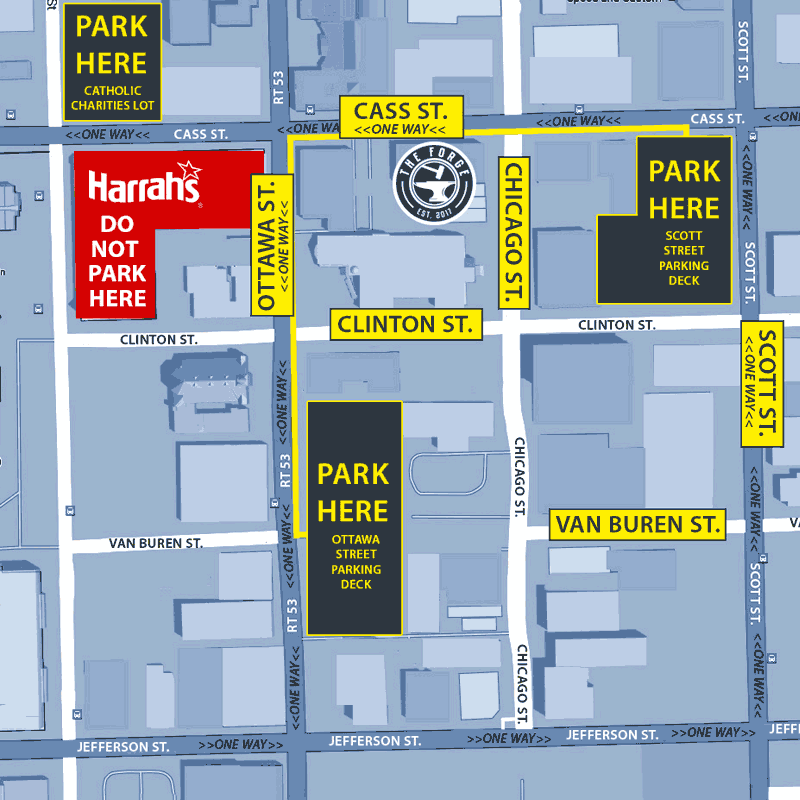 If you're taking public transit, we are in waling distance from both the Heritage Corridor & Amtrak Platform and also the Rock Island Platform.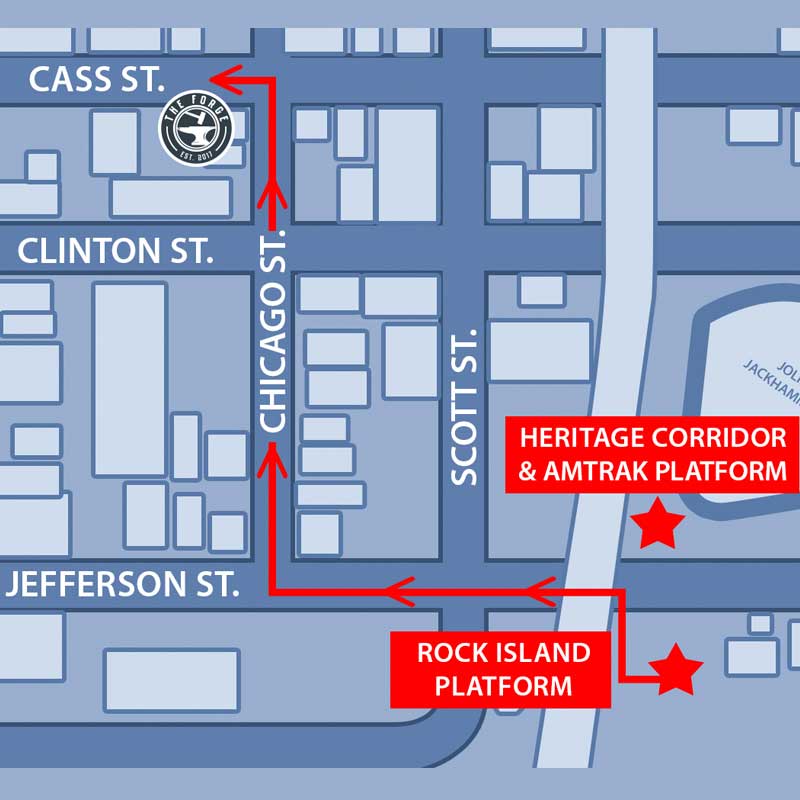 No smoking of any kind is allowed inside the building
You must have a valid form of Federal or State ID as proof of age, NO TICKETS
Fake ID's will be confiscated and you will be escorted out with NO REFUNDS
If you are under 18 years of age, you must adhere to local curfew laws or be accompanied by someone  18 years of age or older
Ear plugs are suggested for all concerts
No weapons, backpacks, umbrellas, strollers or outside food / beverage allowed
No crowd surfing is allowed
No In and Outs, all re-entry's will need a new ticket purchase
No Photography or Video
Hats MUST BE WORN straight forward or straight back
No Excessively Baggy Clothing
EVERYONE that enters is required to wear a wristband if designated by security
No fighting or aggressive behavior will be tolerated
By entering, you acknowledge the rules above and agree to their terms.
The Forge has the right to refuse entry to anyone who cannot provide a valid ID, is intoxicated or appears to be under the influence.
Please be respectful of your surroundings and of others around you at all times.
ADA Seating is provided for those in need. When arriving at the venue, please proceed to the ticket window to request ADA accommodations. A G.A. ticket is required for entry.
One additional guest is allowed to accompany the person in need of the ADA accommodations (each must have a G.A. ticket). Chairs in the ADA section have backs, while balcony reserved seating does not.